1200-4200BPH,Max.10L Full Automatic Blow Molding Machine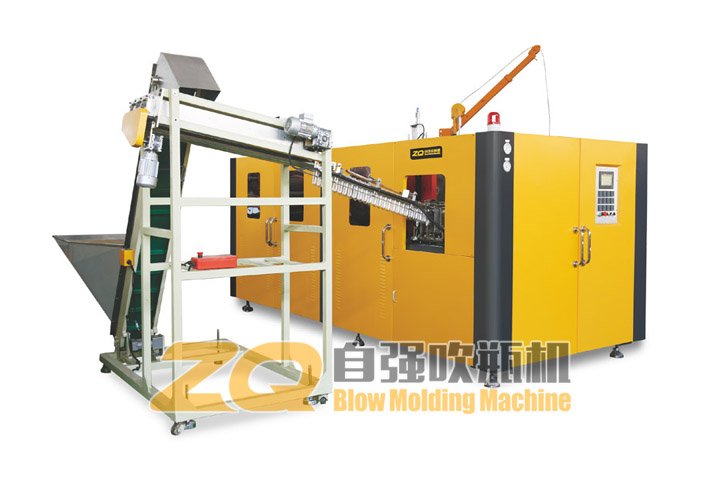 ZQ-M Series Full Automatic Blow Molding Machine
By structure optimization and technicial innovation, Cost-effective ZQ-M series of blowing machines have been developed on the basis of ZQ-A series of blowing machines.
ZQ-M series of blowing machines can produce different shapes of 0.6L, 2.0L, 5L and 10L carbonated, mineral, pesticide, cosmetics, wide-mouth and other plastic PET/PP containers.They have all the advantages of ZQ-A series of blowing machines: Low rejection rate, high speed,stable running and easy operation.
Settings
a).PLC colour display: OMRON(JAPAN)
b).Pneumatic parts:AIRTAC(TAIWAN)
c).Controller of preform transfer:Servo motor DELTA(TAIWAN)
d).Other electric parts are all world-famous brand
Features
A. Stable performance with advanced PLC.
B. Conveying preforms automatically with conveyor.
C. Strong penetrability and good and swift distribution of the heat by letting the bottles rotate by itself and revolute in the rails simultaneously in the infrared preheater.
D. High adjustability to enable the preheater to preheat preforms in shapes by adjusting the light tube and the length of the reflecting board in the preheating area, and eternal temperature in the preheater with an automatic thermostatic apparatus.
E. High safeties with security automatic-locking apparatus in each mechanical action, which will make the procedures turn into a state of safety in case of a breakdown in certain procedure.
F. No contamination and low noise with the air cylinder to drive the action instead of the oil pump.
G. Satisfaction with different atmospheric pressure for blowing and mechanical action by dividing the blowing and action into three parts in the air pressure diagram of the machine.
H. Strong clamping force with high pressure and double crank links to lock the mold.
I. Two ways of operating: automatic and manual.
J. Safe, reliable, and unique design of the position of valve to make the air pressure diagram of the machine easier to understand.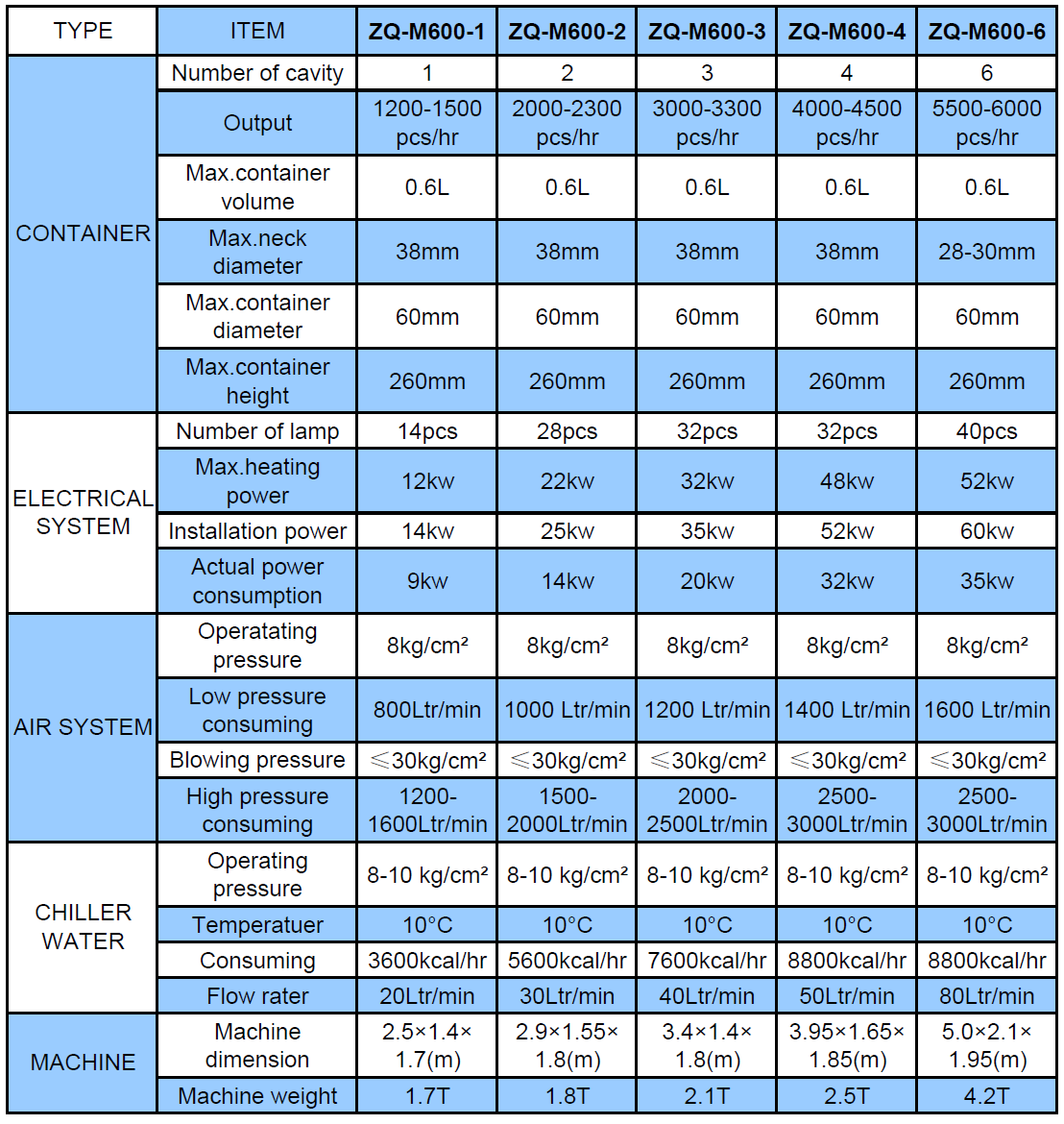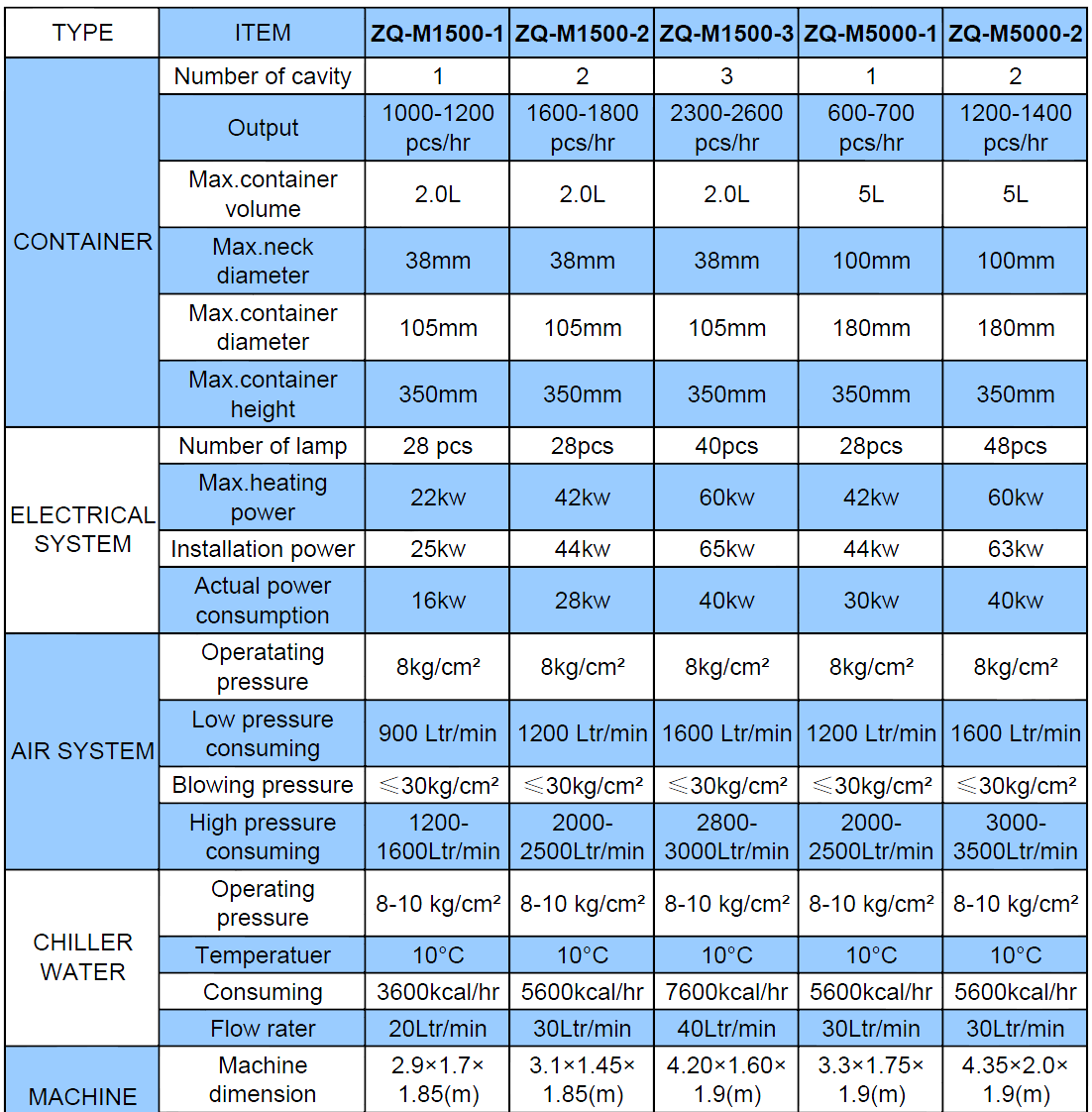 Note: The specifications are subject to change without notice for the further improvement. Custom production accepted. Any client idea tried.