Fully Automatic Blow Moulding Machine For Handled bottle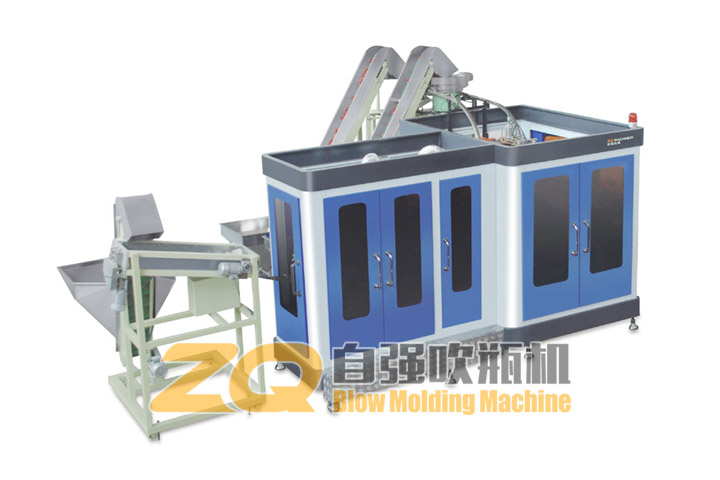 Fully Automatic Blow Moulding Machine For Handled bottle
ZQ-B2500-2 is our newly designed full automatic blow molding machine for handled bottle production,this model boasts with full automation,high intelligence,stable fuctioning,simple composition,high efficiency,low cost,no contamination in production,up to National Hygienic Standard,widely applied in food,beverage,cosmetics and pharmaceutical field,etc,especially find great applications in edible oil production industry.
In ZQ-B2500-2 blow molding machine operating,after preform being loaded and positioned ,with the help of sevo motor positioning device,handles can be accuratedly positoned in mold, and realizes full automatic production for handle bottles.
Handled bottle blow molding machine substantially increase production output without more labor cost,bringing great significance to PET edible oil bottle blow molding machine industry,a good option for medium–large manufacturers for handled bottle with high output demands,however,for those with small output requirements,ZQ semi-automtic blow molding machine (ZQ22-III,ZQ22-IV) would be a good choice!
ZQ-B2500-2 has the following advantages:
1. Automatic handle unscrambling system;
2. Automatic handle loading device;
3. Human-machine interface control ,easy operation;
4. Automatic preform unscrambling and preform loading;
5. Preform hopper;
6. Stable and reliable preform uncrambling,automatic prform loading;
7. Well-enclosed space ,no contamination;
8. Perfect heating system;
9. Stable rotation,revolution of preform;
10. Preform evenly heated ,easier for blowing;
11. Less power consumption,temperature of each part of preform can be adjusted;
12. Cycling cooling wind in preheating system;
13. Heating oven adopts automatic feedback and enclosed controlling systems,proportional power output,no effect from voltage fluctuation;
14. Hydraulic clamping systems,strong clamping force,stable operation.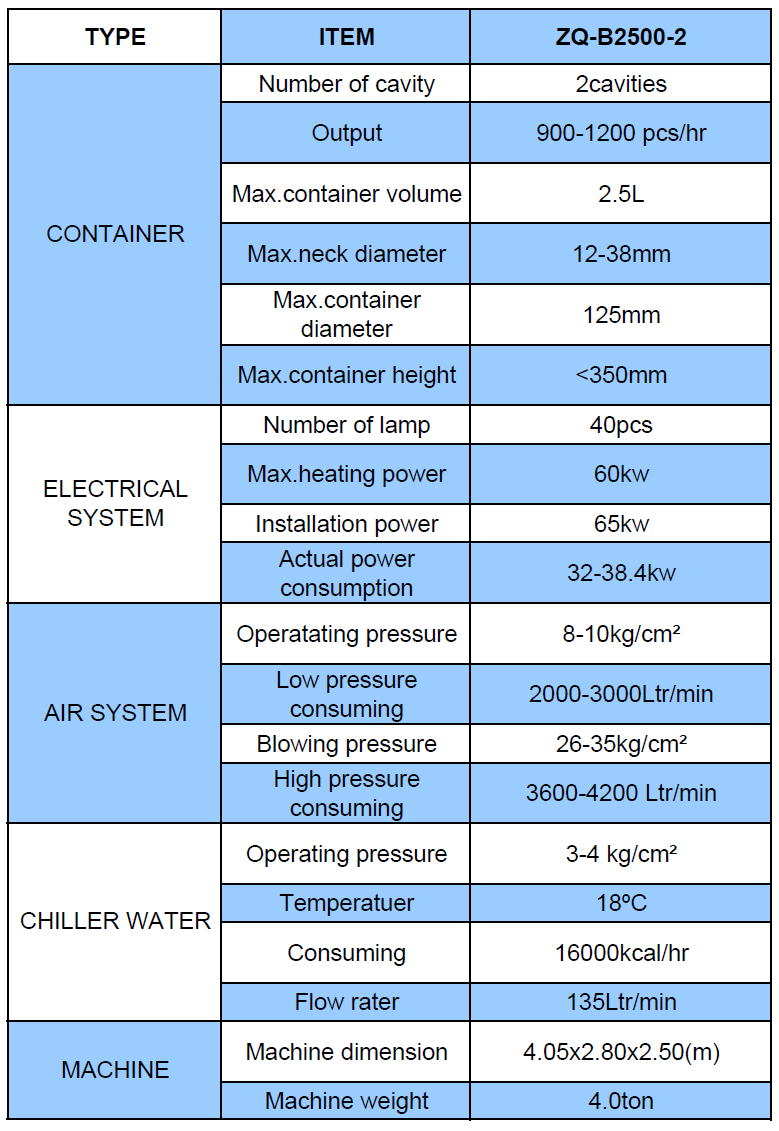 Note: The specifications are subject to change without notice for the further improvement. Custom production accepted. Any client idea tried.