High-Speed PET Bottle Blow Moulding Machine | ZQ-B1500-4,6,8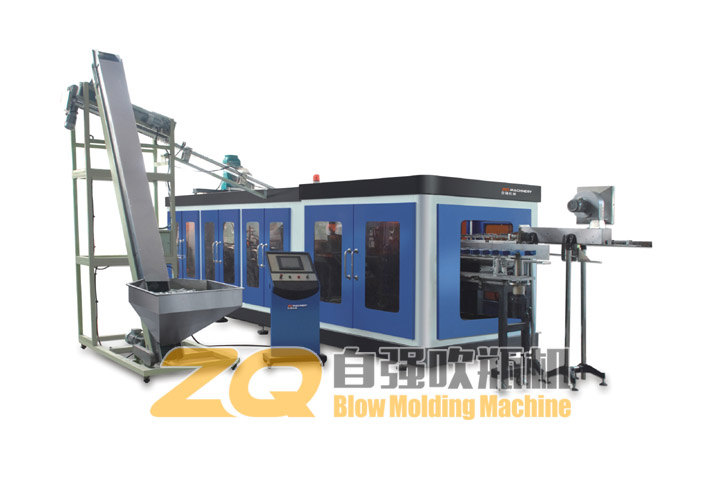 High-Speed PET Bottle Blow Moulding Machine | ZQ-B1500-4,6,8
ZQ-B1500-8 Fully automatic PET stretch blow molding machine is the most stable two-step automatic stretch blow moulding machine. It has eight cavities and the maximum volume of the products is 2.0L.This model is especially applied in the bottle production of PET water,hot-filling juice/tea,carbonated drinks,edible oil,cosmetics,pesticide bottle,and other packing containers,which is made of plastic of crystalline type, such as PET and PP etc.
This machine adopts rotary perform loading system,which is very stable and reliable and applicable of different size of preform.
High Speed (Output MAX): 9000 Bottles/Hour, Container Volume: <=2000ml.
The advanced hydraulic mould clamping system helps the machine runs stablely with little vibration and applicable to different bottle sizes.
The servo conveying system with high accuracy of position,quick speed and good stability.
The precise design of heating tubes height and PET preforms spacing, to make it work the best.
The top class air supply control system assures even air flow and quick response of the machine ,which improves the quality and uniformity of the products.
Advantages
1. This machine is easy to operate by using full autoamtic human-machine interface. It runs smoothly at very high speed.
2. Every parts of whole machine is selected properly and treated precisely.
3. We adopt rotary preform-loading system, which overcomes the shortage of the traditional intermittent preform loading. This new system can load preforms faster, more efficient, more continuously and smoothly.
4. To let preform heated fast, preforms are closely arranged in heating zone. We can not only get even heated preforms but also save much power.
5. TSUBAKI chain(Japanese brand) with precise pitch distance and greater durability is adopted in heating zone.
6. The chain is with flexible tensioning structure of mold spring, which extends chain life.
7. There is cooling device at bottle neck to keep its original shape.
8. Distance distributing structure is designed properly. Distances are divided accurately and credibly after preform holders coming out of heating zone.
9. Festo Servo motor and electrical positioning syestem(Germany brand) are applied in preform(bottle)conveyor,it ensures faster preform(bottle) conveying and higher precison of re-positioning,overcoming defects of traditional pneumatic conveyong structure.
10. It is hydrualic mold clamping structure, which makes sure of the strong clamping force and smooth running.
11. We use servo motor to stretch preforms, which helps to get very fast stretching speed and very accutate stretching stroke. What's more, stretching stroke can be adjusted at will.
12. Festo combination valves(Germany brand) are applied in air blowing(exhausting) system to make it faster and more durable.
13. With novel design of conveyor, bottles can be smoothly delivered from blowing machine to filling machine directly.
14. There is zooming system for every running structure, which protects the whole machine.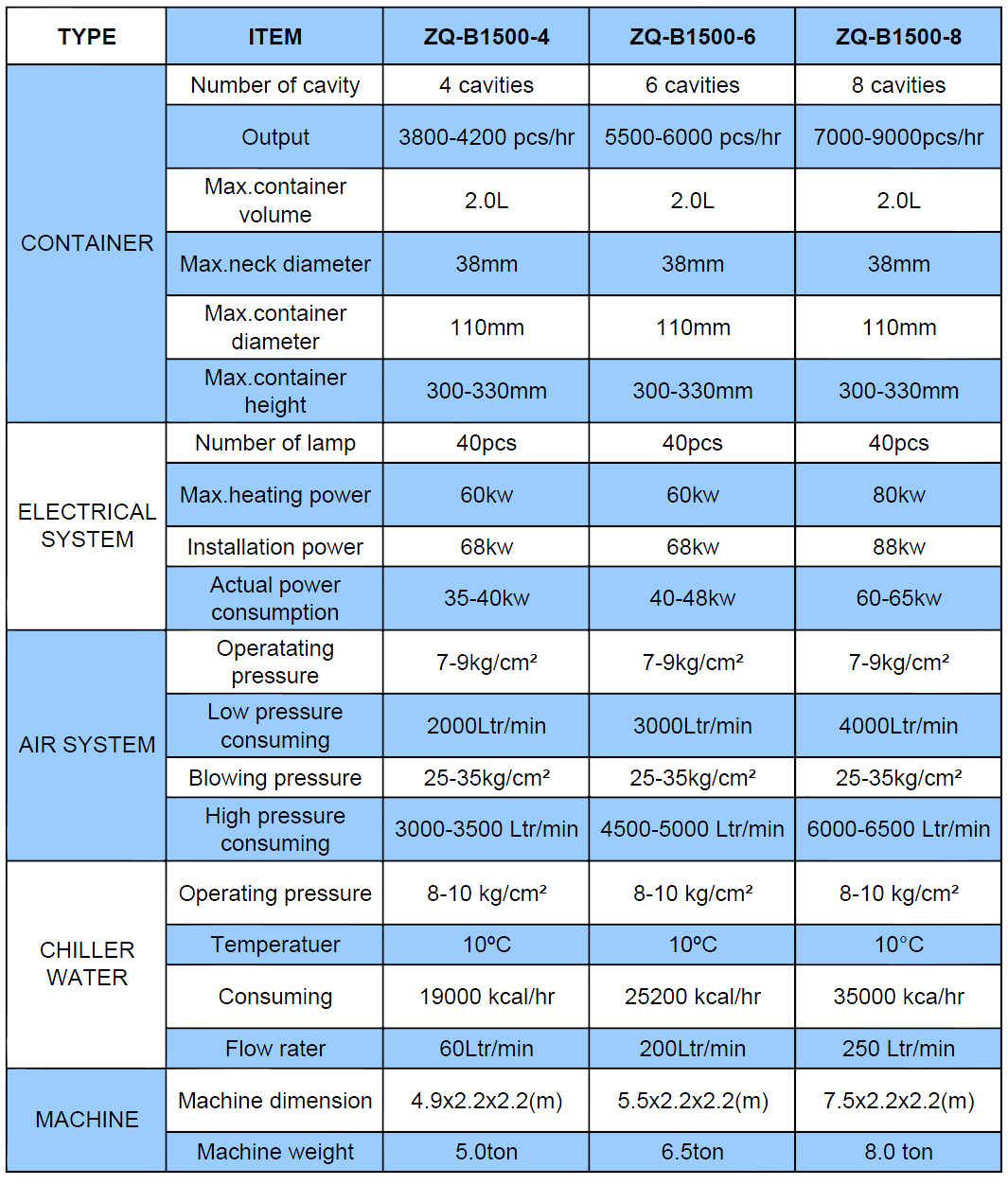 Note: The specifications are subject to change without notice for the further improvement. Custom production accepted. Any client idea tried.