ZQ22-V,5-Gallons PET Blowing Moulder Machine
ZQ22-V PET stretch blow molding machine
is specially designed to produce 5-gallon bottle and 25L wide mouth jar. Its output is up to 90 BPH for 5-gallon bottle and even could reach 120 bottles per hour in certain case.
ZQ22-V consists of main unit and rotary infrared heater. The ordinary quartz lamp cannot heat preform ideally because the preform wall is excessively thick. The infrared heater with high penetrative force can heat the inside and outside of preform simultaneously and keep preform in even heating, therefore high shaping quality.
What an operator should do during production is just to put heated preform into the blow mold and press the switch, and then computer will take care of the whole procedure.
Features
1. Special design for PET Gallon Bottle up to 6 Gallon
2. Produce wide mouth jar up to 25 liter with neck size up to 200mm.
3. Using Infrared reheat units to achieve uniform heating throughout the wall of preform
4. Adopt special designed preform heating system to ensure the optimal heating effect for 730g thick-wall preform
5. Special designed fan-cooling system in the heating channels to keep the oven with constant temperature and ensure the preform can be heated completely.
6. Water cooling system ensures the quality of preform neck.
7. Up to 90 bottles/hour using one-cavity mold for 5-gallon bottle
8. Use advanced PLC control system with counting function and time-control precision to 0.01second, and a use-friendly panel.
9. Equipped with special designed air storage units
10. Simple installation & startup adjustment.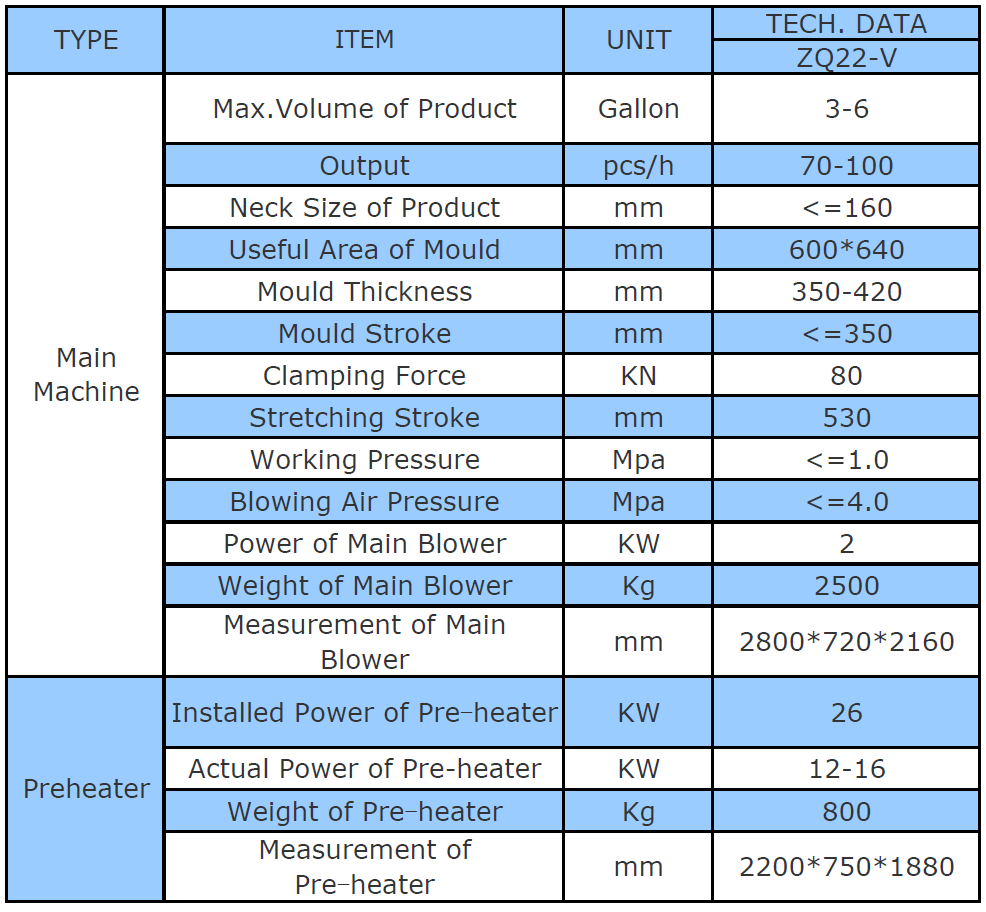 Note: The specifications are subject to change without notice for the further improvement. Custom production accepted. Any client idea tried.